House
2063 Forbes Street
Jacksonville, Florida 32204-3801
Henry A. Taylor, c. 1914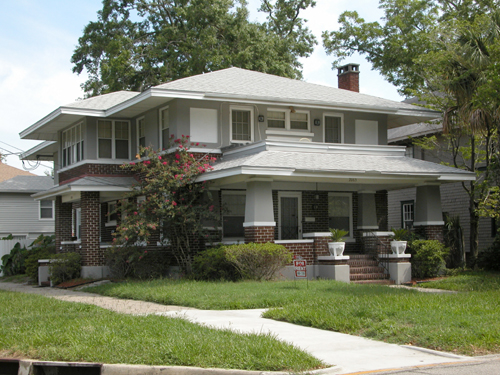 Henry Taylor was a contractor who built dozens of two-story houses in the Riverside neighborhood between 1914 and 1919 and developed his own interpretation of the Prairie School theme.

Listed in the National Register of Historic Places in 1985 as part of the Riverside Historic District.

Photos by Wayne W. Wood.

References
• Broward, Robert C.: The Architecture of Henry John Klutho: The Prairie School in Jacksonville. Jacksonville, Florida: The Jacksonville Historical Society, 2003.
• Wood, Wayne W.: Jacksonville's Architectural Heritage: Landmarks for the Future. Gainesville, Florida: University Press of Florida, 1996.