Bungalow
2770 Oak Street
Jacksonville, Florida 32205-8205
Unknown, c. 1914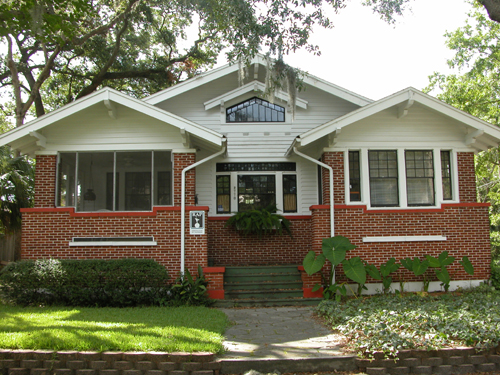 The Riverside-Avondale Historic District contains an eclectic mix of architectural styles and residential types, ranging from riverfront mansions to cottages. Its over 1,000 bungalows reflect every imaginable style that was popular between 1900 to 1930, from Colonial Revival to Tudor Revival and from Art Deco to Prairie Style. The adaptability of the bungalow format is remarkable. This beautifully proportioned bungalow has all the hallmarks of the Prairie School while at the same time remaining quite bungaloid. A masonry stringcourse separates the brick base from the wooden upper portions, topped by broad overhanging eaves. Bands of windows encircle the house, and the gently pointed window in the center of the facade parallels the flow of the roofline. It is a simple but skillful composition.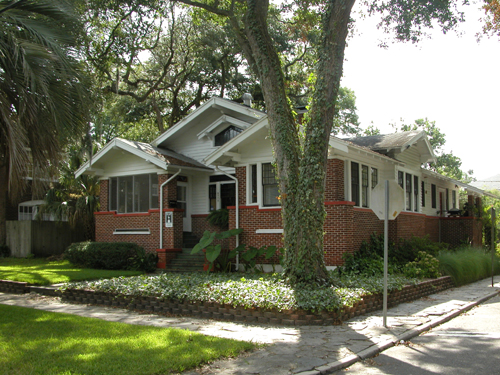 Listed in the National Register of Historic Places in 1985 as part of the Riverside Historic District.

Photos courtesy of Wayne W. Wood.

References
• Broward, Robert C.: The Architecture of Henry John Klutho: The Prairie School in Jacksonville. Jacksonville, Florida: The Jacksonville Historical Society, 2003.
• Wood, Wayne W.: Jacksonville's Architectural Heritage: Landmarks for the Future. Gainesville, Florida: University Press of Florida, 1996.