Robert W. Simms House
2982 St. Johns Avenue
Jacksonville, Florida 32205-8729
James R. Walsh, 1913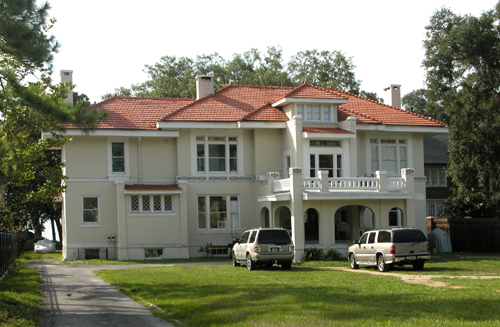 Designed by architect James R. Walsh, this unusual Prairie-style house has many noteworthy features: broad eaves with a cross-pattern soffit and a corrugated design in the cornice; paneled window groupings; decorative horizontal bands; piers and pilasters that simulate buttresses; a porch that functions as a porte-cochere; and an imposing brick and wrought-iron fence. The house is very thin compared to its width, providing natural ventilation from the river breezes. The first owner was Robert W. Simms, one of Jacksonville's largest liquor dealers and "sole distributor for Bartholomay Rochester beer."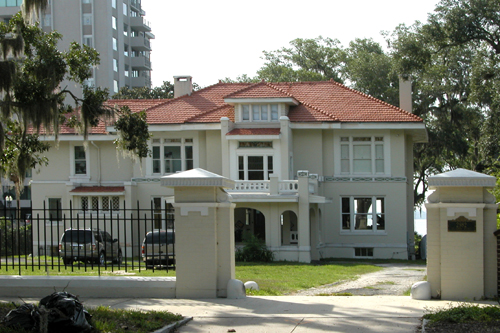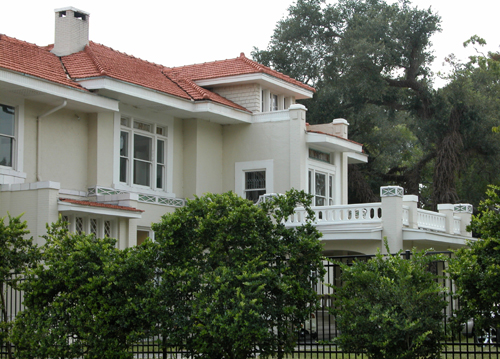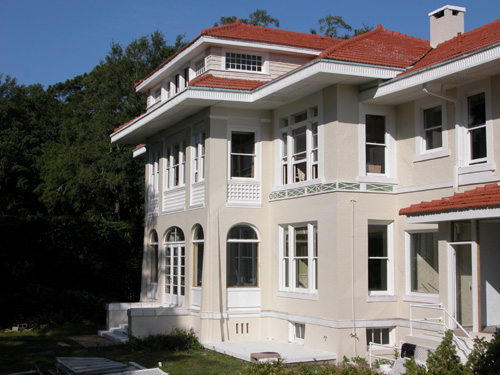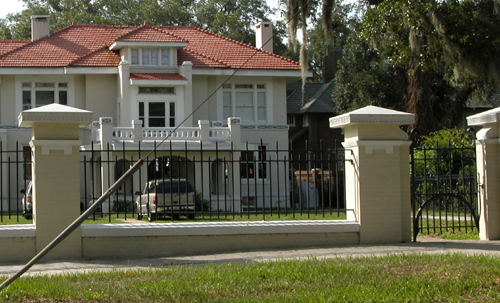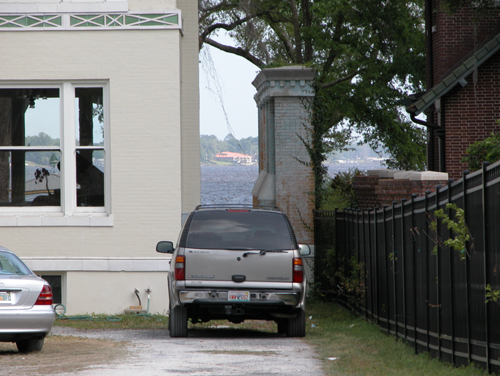 Just beyond and to the right of the house is the well known "Spite Wall" (in front of the car in the above photo). In 1917 Simms constructed the wall (over fifteen feet tall and sixty feet long) because Arthur McDuff had built his adjoining house closer to the river than the Simms' house. The "Spite Wall" prevented the McDuffs from having a direct view into the Simms' living room. Architect Walsh also was the designer for this wall, which is topped by a nicely detailed cornice that complements the architecture of the house. In bygone days sight-seeing buses would stop in front of the house so that a spiel could be given through a megaphone about the feud between the two neighbors.
This is quite likely the only Prairie School spite wall in the world.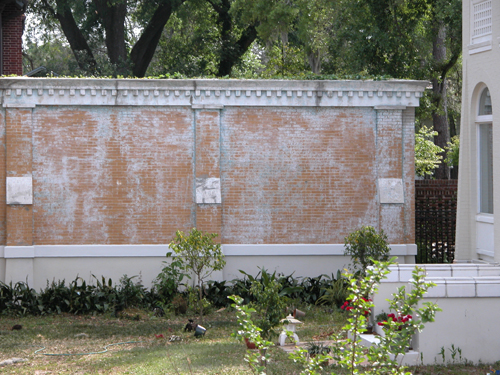 "The Spite Wall"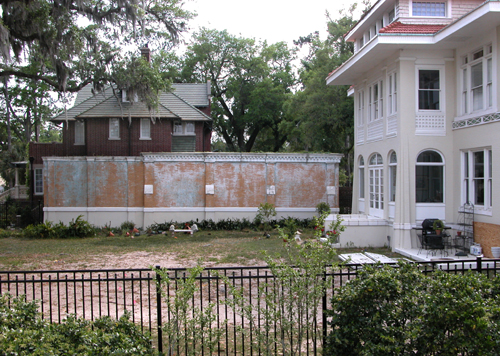 Listed in the National Register of Historic Places in 1985 as part of the Riverside Historic District.
Photos by Wayne W. Wood.
References
• Broward, Robert C.: The Architecture of Henry John Klutho: The Prairie School in Jacksonville. Jacksonville, Florida: The Jacksonville Historical Society, 2003.
• Wood, Wayne W.: Jacksonville's Architectural Heritage: Landmarks for the Future. Gainesville, Florida: University Press of Florida, 1996.