Williges Store Building
(now home of Vriezelaar Tigges Edgington Bottaro Boden & Ross LLP and the Williges Lofts)
613 Pierce Street
Sioux City, Iowa 51101-1205
William L. Steele, 1926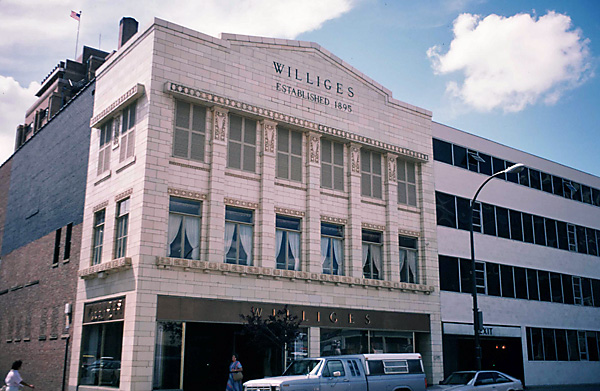 German-born August Williges was a furrier who moved to Sioux City in 1895. With the construction of this store building, his business expanded into women's clothing. The basement of the Williges Building was the first home of the Art Center Association of Sioux City in 1938.
The store left this building in 1998, which sat vacant for the better part of a decade. After being threatened with demolition, developer Bart Connelly came forward in July 2007 with plans to save the building. Shortly after, the Vriezelaar firm leased the first floor. Nathan Kahlar of M+ Architects remodeled the 7,000 sq.ft. space.
Photograph taken in 1987 by Richard Kenyon.
References
• Gebhard, David, and Mansheim, Gerald: Buildings of Iowa. Oxford: Oxford University Press, 1993, p. 501.
• Wilson, Richard Guy, and Robinson, Sidney K. The Prairie School in Iowa. Ames, Iowa: The Iowa State University Press, 1977, p. 116.