National Farmers' Bank Building
(now Wells Fargo Bank)
101 North Cedar Avenue (at Broadway)
Owatonna, Minnesota 55060-2303
507/451-5670
Open during normal business hours.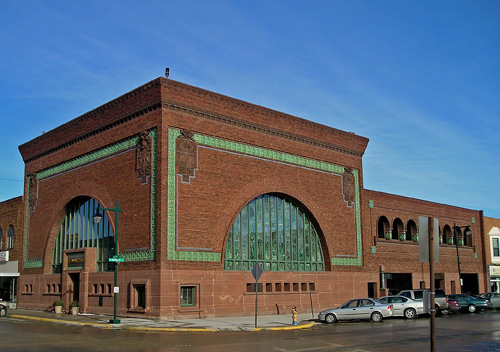 Without a doubt, the most famous and frequently visited Prairie School commercial building. Standing as a marker at the beginning of the second great creative period of Sullivan's life, the National Farmers' Bank building represents not only Sullivan's talents but the contributions of his faithful draftsman George Grant Elmslie and his enthusiastic client Carl Bennett. It marks a turning in Sullivan's career from the design of high-rise urban commercial buildings to smaller structures in modest towns.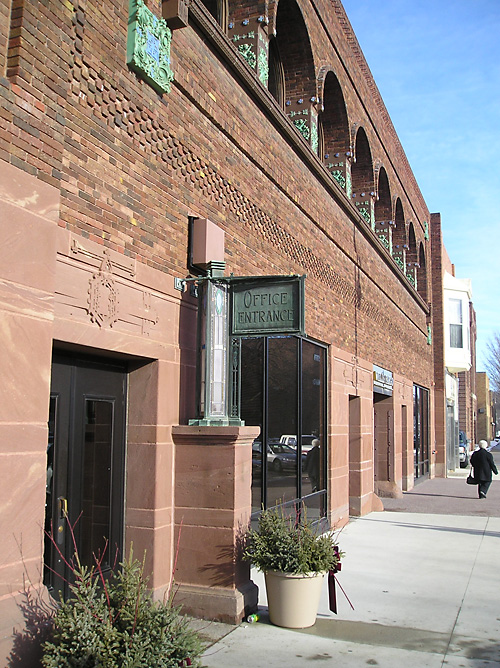 The bank originally occupied the great cubical portion of the building, while a printing company rented the rear. The bank has subsequently moved into the entire structure, and constructed a drive-through facility across the street.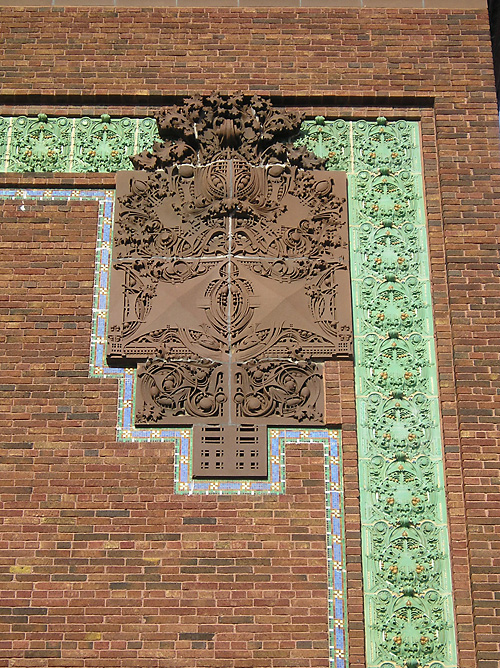 The tapestry brick exterior is enriched by terra cotta ornament and tile mosaic borders.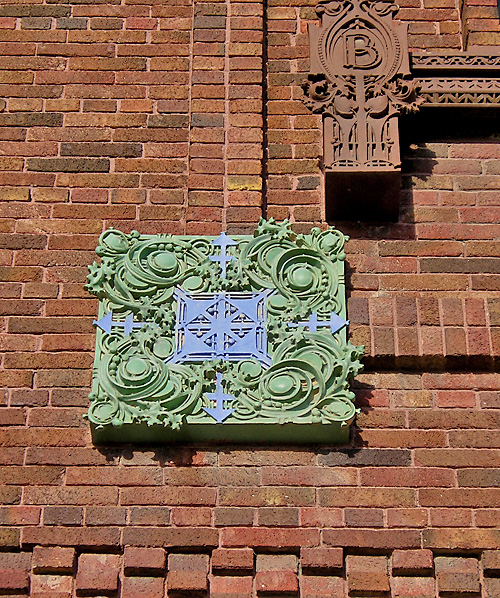 Seen in several locations within and without, the "B" represents Carl Bennett, whose family owned the bank.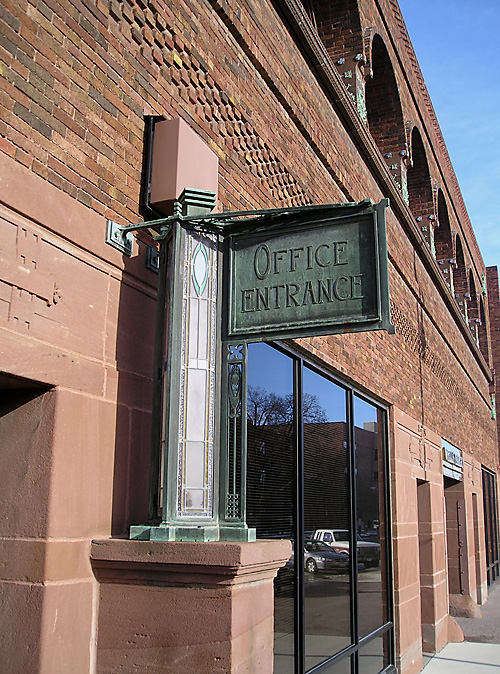 This building well represents the Prairie School's concern that each building be a complete work of art. Even small details are given careful attention.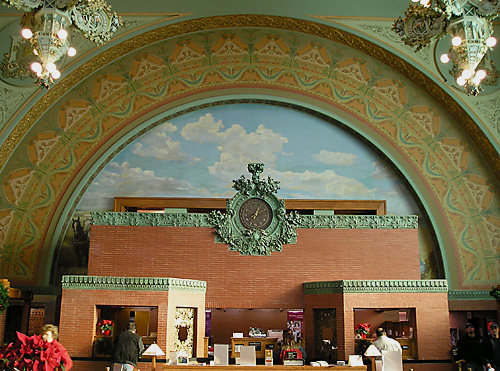 The breathtaking interior was described by Sullivan as a "color symphony." Executed with the assistance of Louis J. Millet, the frescoes combine 240 shades of yellow, red, orange and green.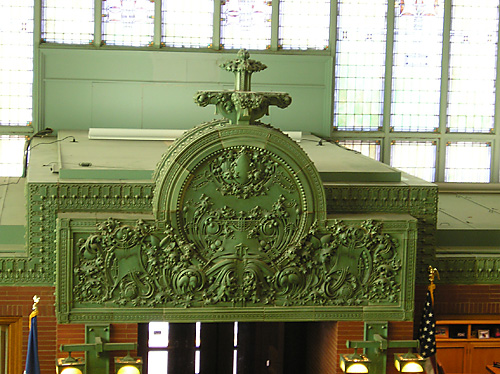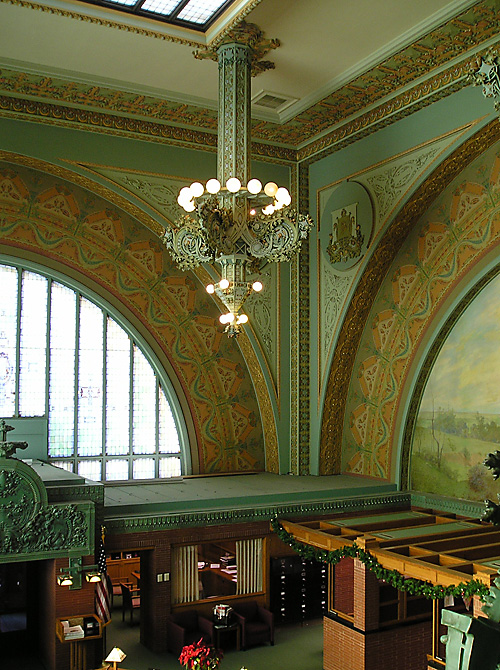 The cast iron "electroliers" weigh over two tons each, and are supported by iron beams that frame the art glass skylight.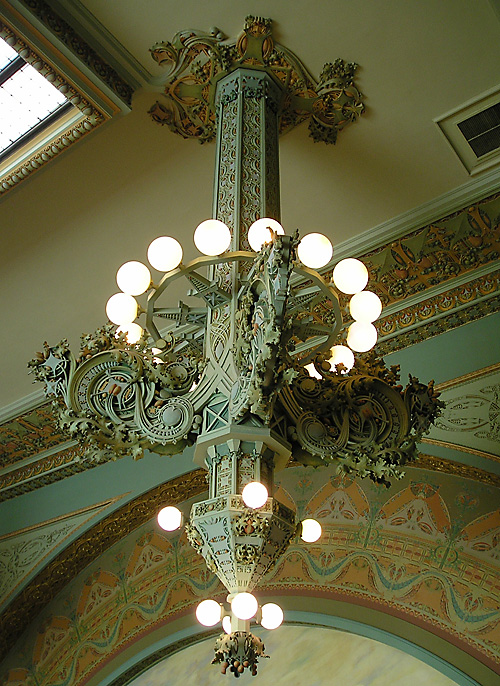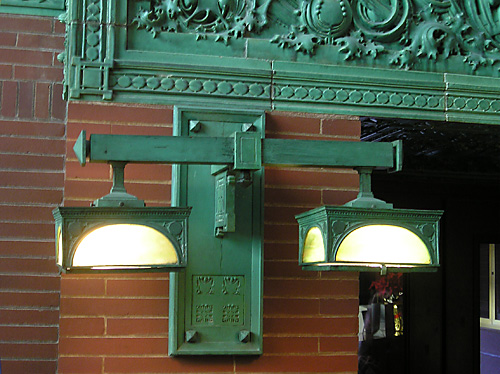 The whimsical light fixtures that frame the main entrance echo the form of the bank building itself.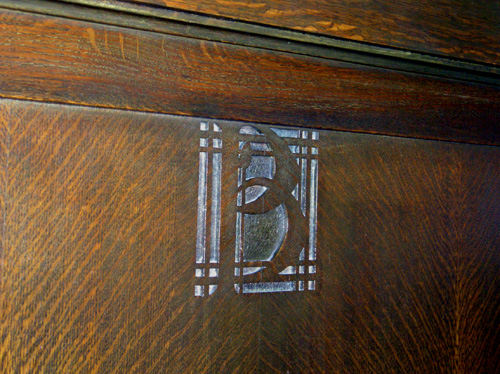 Some of the original bank furniture still exists. This bench is now located on the balcony above the central tellers windows, behind the clock, where a small historical exhibit is located. The bank welcomes visitors.
Placed in the National Register of Historic Places, 1976.
References
This building is cited in dozens of architectural histories and guide books. These two are the most important:
• Millet, Larry: The Curve of the Arch. Saint Paul: Minnesota Historical Society Press, 1985.
• Weingarden, Lauren S.: Louis H. Sullivan: The Banks. Cambridge: The MIT Press, 1987.
http://news.minnesota.publicradio.org/features/200002/28_buzenbergb_owatonna/
http://www.artsmia.org/unified-vision/architectural-tour/national-farmers-1.cfm
http://snuffy.lib.umn.edu/image/srch/bin/Dispatcher?mode=600&id=atc1689a
http://snuffy.lib.umn.edu/image/srch/bin/Dispatcher?mode=600&id=atc1689b