Fred B. Jones Estate, "Penwern"
3335 South Shore Drive
Delavan, Wisconsin 53115-3507
Frank Lloyd Wright, 1903
"Penwern" means "great house" in Gaelic. A substantial summer residence of wood and fieldstone with associated water tower, boathouse (burned in 1975), stables (now used as a garage), and a gatehouse (now a separate residence; pictured below). Several rooms have been added to the rear of the main house.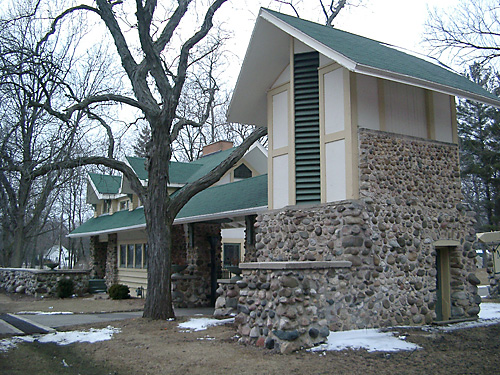 This and the other Wright houses along South Shore Drive are not visible from the road or other public property. They can, however, be viewed from Lake Delavan.
Photograph courtesy of Jack Lesshafft.
References
• Storrer, William Allin. The Architecture of Frank Lloyd Wright: A Complete Catalog. Chicago: The University of Chicago Press, 2002 (Third Edition). S.083, S.084, S.085
• Visser, Kristin. Frank Lloyd Wright & the Prairie School in Wisconsin. Madison, Wis.: Prairie Oak Press, 1998 (Second Edition), p. 91-93.