House
1644 McDuff Avenue
Jacksonville, Florida
Henry A. Taylor, c. 1915
Although Henry Taylor is one of Jacksonville's lesser known architects, his prolific exploration of the Prairie Style in his work from 1914 to 1919 demonstrates how pervasive this style was in this city. Taylor was a contractor, who often designed many of the houses he built and occasionally listed himself as an architect, although he had no formal architectural training. He built dozens of two-story houses in the Riverside neighborhood that bore the hallmarks of the Prairie School. Although his buildings did not rival the finesse of Klutho, Mark, Camp, and others, they nonetheless show a skillful understanding of the Prairie School concepts and helped to spread the style throughout the Riverside neighborhood.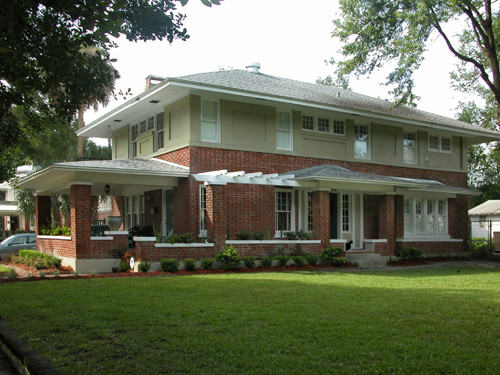 Perhaps Henry Taylor's best design, this house is very similar in appearance to his earlier house at 1105 Goodwin Street, which was also built for developer T.V. Kirk. It was first occupied by Dr. James H. and Evelyn Randolph. This house has two entry porches as well as a porte cochere, which has been enclosed.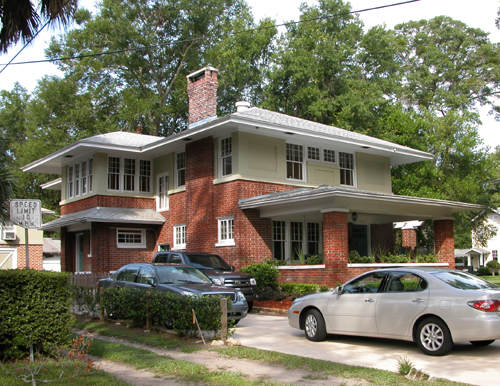 Listed in the National Register of Historic Places in 1985 as part of the Riverside Historic District.
Photos by Wayne W. Wood.
References
• Broward, Robert C.: The Architecture of Henry John Klutho: The Prairie School in Jacksonville. Jacksonville, Florida: The Jacksonville Historical Society, 2003.
• Wood, Wayne W.: Jacksonville's Architectural Heritage: Landmarks for the Future. Gainesville, Florida: University Press of Florida, 1996.