House
2101 College Street
Jacksonville, Florida 32204-3705
Ransom Buffalow, 1912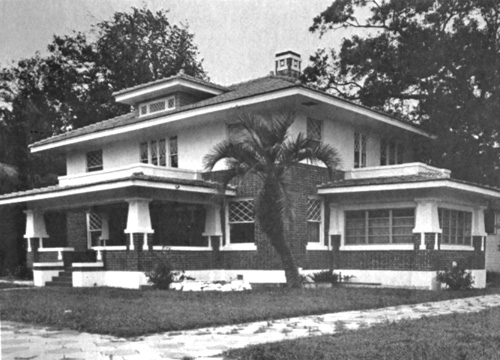 2101 College Street, 1984
This particular format is a Prairie School derivative that originated in Jacksonville's Riverside neighborhood and was repeated so widely in Jacksonville that it almost can be considered a stylistic category by itself. Ransom Buffalow was one of many local architects and builders also experimented with it. Although he did not originate it, Buffalow created more variations of this same format more than anyone else.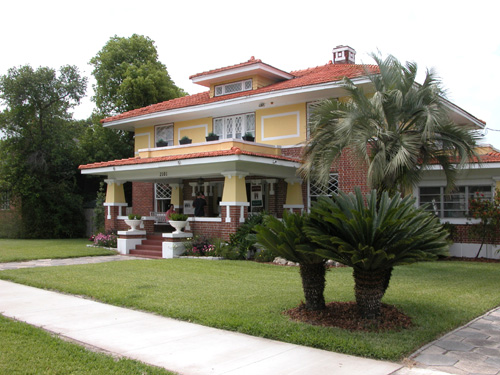 2101 College Street, 2006
During the years 1912 to 1922, a large number of houses influenced by the Prairie School movement were built in Jacksonville's Riverside and Springfield neighborhoods. Architect H.J. Klutho was at the forefront in bringing the Prairie style of architecture to Jacksonville, and his 1912 George Clark house on Riverside Avenue (now demolished) was the first Prairie style residence built in Riverside. Its format was quickly and frequently emulated by other local designers such as Buffalow: a low-pitched red tile roof with a central dormer, a geometric inset in the chimney, a red brick first story separated from a white stucco second story by a horizontal masonry band, broad projecting eaves, and an emphatically horizontal porch with rectilinear columns displaying T-shaped ornaments.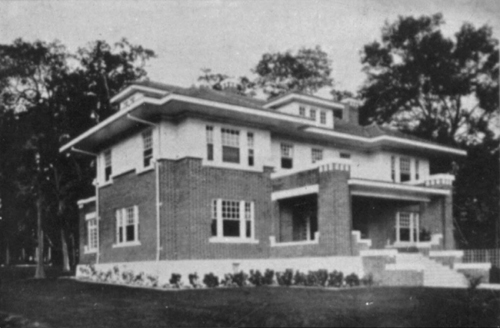 Klutho's George Clark house on Riverside Avenue, 1912
Listed in the National Register of Historic Places in 1985 as part of the Riverside Historic District.
Photos courtesy of Wayne W. Wood.
References
• Broward, Robert C.: The Architecture of Henry John Klutho: The Prairie School in Jacksonville. Jacksonville, Florida: The Jacksonville Historical Society, 2003.
• Wood, Wayne W.: Jacksonville's Architectural Heritage: Landmarks for the Future. Gainesville, Florida: University Press of Florida, 1996.