Bungalow
2227 Herschel Street (moved from 2582 Oak Street)
Jacksonville, Florida 32204-4321
Mark & Sheftall, 1915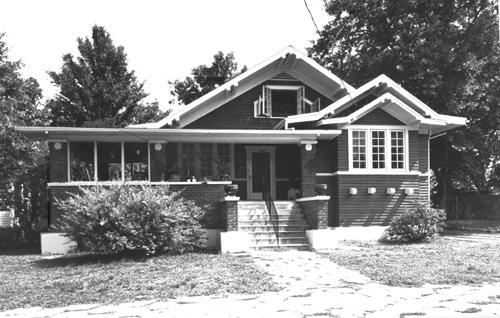 The broad front porch of this handsome Prairie School bungalow was clipped off in order to save the house when it was moved in 1983 to avoid demolition by the local hospital. Although this took away some of the strong horizontal flow of the house, its multi-planed roofline and nicely framed bands of windows still convey its Prairie feel. The triangular grille and the interesting window in the gable, as well as the decorative insets in the chimney and porch columns, add to the compostion of the facade.
Listed in the National Register of Historic Places in 1985 as part of the Riverside Historic District.
Photos by Judy Davis and Wayne W. Wood.